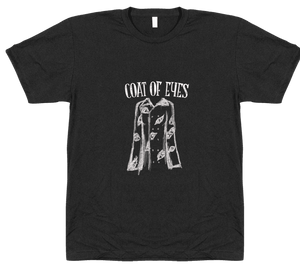 Coat of Eyes T-Shirt (exclusive)
Coat Of Eyes - Celebrate the first band Billy Corgan started in 1984 with this exclusive ultra comfy tee. Natalie Chaffee-Bates, design engineer.
Our fun and comfy shirts are created with 100% ringspun cotton that stretches and moves with you. Eco-friendly, and free of synthetics, it is simply the most comfortable T-shirt your body will ever enjoy.
FREE SHIPPING - ORDER NOW.